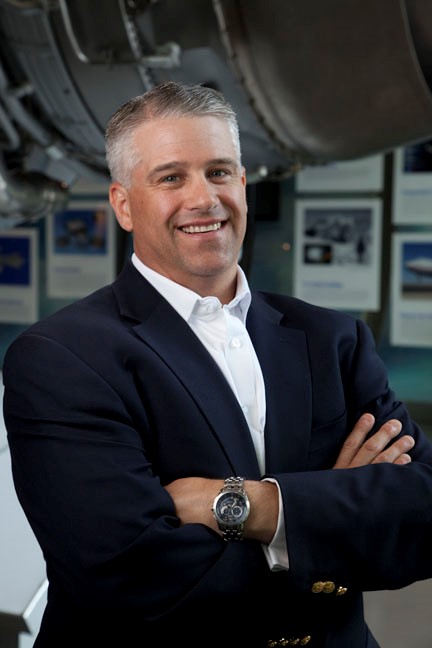 Biography
Mike Kauffman is Supply Chain Vice President. He leads the global Manufacturing and Supply Chain made up of eight part families across 32 sites in seven countries, the sourcing organization, and product quality. His leadership team collaborates together and across Aerospace with a sharp focus on safety, quality, delivery, and cost/cash – in that order. Their vision is to credibly deliver high quality products, on time at the best cost.
Mike began his career with GE in 1994 joining the Manufacturing Management Leadership Program, where he held assignments with NBC and GE Appliances. Mike began his GE Aerospace career in 1996 with the newly formed GE Engine Services working multiple technical, operational and lean Six Sigma roles until 2002.
Between 2002 and 2009, Mike held multiple plant manager roles including the repair facility in McAllen, Texas, the configuration hardware business Unison Elano in Dayton, OH, the Peebles Test Operation responsible for production engine final assembly & product acceptance testing, development & product certification testing and engineering support testing.
In 2009, Mike led the Global Machining and Fabrication sourcing organization responsible for over 250 global and domestic suppliers providing a wide range of hardware from C-parts, complex machined components to major structural components.
In 2011, Mike became GM of the Rotating Parts & Compressor Airfoils CoE having responsibility for the manufacturing value stream for rotor components and compressor airfoils for all GE engines including the TEI & VAB JV relationships.
In 2013, Mike became General Manager of the newly formed Composites Value Stream responsible for a wide range of eight composite businesses and JVs ranging from fan blade, aero-structure, thrust reverser and ceramic composite production. In 2016 Mike transitioned to focus specifically on fully vertically integrating and industrializing the Ceramic Matrix Composite business including the formation of two JVs & four new production facilities.
In 2019, Mike became the Product Line GM GE90/CF6/GP7200, having P&L responsibility for performance & reliability, production, design & MRO support of the GE90, CF6 and GP7200 engines. Mike was promoted to Vice President & General Manager of GE Aerospace Sourcing in early 2022 and was recently named Vice President of Supply Chain in early 2023.
Mike is a graduate of Ohio State University with a BS in Mechanical Engineering. Mike resides in Springboro, Ohio and is married to wife Donna and they have three children.