The first original turboprop design entering the business & general aviation market in more than 50 years
Wholly designed and made in Europe, where the supply chain resides
Incorporates additive and the latest digital technology to deliver a more efficient step change in performance
BERLIN, Germany – The Catalyst™ engine, the first new, clean-sheet turboprop engine to enter the business and general aviation market in more than 50 years, entirely designed and manufactured in Europe, completed its first flight on Thursday, September 30, on a Beechcraft King Air Flying Test Bed.
The successful 1 hour, 40-minute flight took off from and landed at the Berlin Airport. The Catalyst™ engine's program was officially launched in 2015. The first run of the Catalyst™ engine on the Flying Test Bed began in December 2020. In parallel, GE Aviation Turboprop also delivered its first flightworthy engine to its launch customer, Textron Aviation, for the single-engine turboprop Beechcraft Denali. To date, 16 test engines have accumulated more than 2,600 hours of operation in ground tests and completed four certification tests.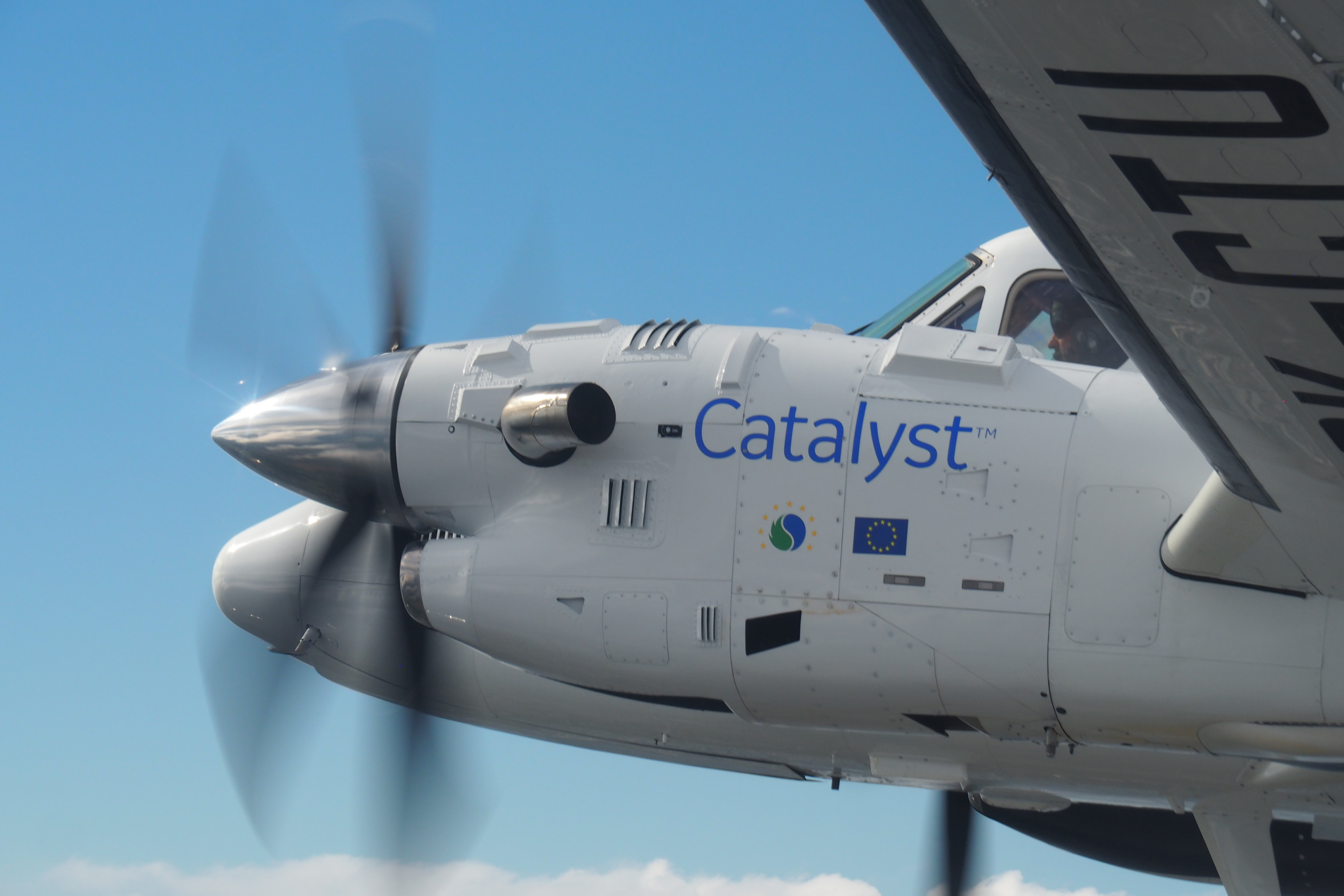 "We are very pleased by this successful first flight and proud of our team of outstanding professionals and specialists from all over Europe," said Riccardo Procacci, CEO & general manager of Avio Aero and GE Aviation Turboprop Engines. "The Catalyst first flight opens a world of opportunities in the business and general aviation market with our launch customer at Textron Aviation, but also in the defense space for applications like drones and trainers. It can be, in addition, a super-efficient core that can pave our way towards hybridization of flight."
"This is a tremendous moment for the Catalyst engine," said Paul Corkery, general manager of GE Aviation Turboprops. "It is the result of huge efforts by our brilliant team to bring this engine out of the test cell and onto the King Air Flying Test Bed. We're very encouraged by preliminary data from the first flight, and we're looking forward to continued flight testing on this revolutionary turboprop engine, alongside our launch customer, Textron, that is heading the same way with their Beechcraft Denali prototype."
"As the first turboprop ever fully designed, developed and built in Europe in the last half-century, the Catalyst engine is an ITAR-free product also available for military applications," said Pierfederico Scarpa, VP Marketing & Sales of Avio Aero. "In this scope, Catalyst has not only technological maturity, but also outstanding performances being confirmed by an ongoing validation and certification process."
The Catalyst™ engine went through the most extensive certification testing ever for a turboprop engine in the business and general aviation segment. The engine is GE's first modern Full Authority Digital Engine Control (FADEC) controlled turboprop, aimed to service the 850 -1600 SHP range. The FADEC is able to deliver a jet-like, single-lever power and propeller control and reduces pilot workload while providing a greater level of control and responsiveness.
"The first flight was very successful. I must say, everything went flawlessly," said Sigismond Monnet, Chief Test Pilot. "We actually flew longer than planned, and the engine performed as we expected. I look forward to proceeding with the flight test campaign and expanding the Catalyst's flight envelope."
The Catalyst™ engine is an original turboprop design to deliver a step change in performance and is the first turboprop in the aviation history made with 3D printed components. The engine features an industry-best 16:1 overall pressure ratio, enabling the engine to achieve as much as 20 percent lower fuel burn and 10 percent higher cruise power compared to competitors in the same size class.
The Catalyst™ engine's supply chain and assembly will continue to be based in the industrial European ecosystem. GE sites involved are: GE Aviation Czech, Avio Aero of Italy and Poland, GE Aviation Advanced Technology of Munich (Germany), GE Engineering Design Center of Warsaw (Poland).
>Furthermore, Catalyst's technologies feature prominently in Clean Sky2, the largest European R&D public-private partnerships between the European Commission and the European aeronautics industry, to develop breakthrough technologies devoted to decarbonization.
About GE Aviation
GE Aviation, an operating unit of GE (NYSE: GE), is a world-leading provider of jet and turboprop engines, components and integrated systems for commercial, military, business and general aviation aircraft. GE Aviation has a global service network to support these offerings. For more information, visit us at www.ge.com/aviation. Follow GE Aviation on Twitter at http://twitter.com/GEAviation and YouTube at http://www.youtube.com/user/GEAviation.
# # #
For further information, contact:

Yari Bovalino [email protected] +39 3357569619 
William "Cole" Massie [email protected] +1 (513) 288-4489