EVENDALE, Ohio – GE has completed testing of its first XA100 adaptive cycle engine, ushering in a new era of combat propulsion. GE initiated testing at its Evendale, Ohio, altitude test facility on December 22, 2020. The engine's performance and mechanical behavior were consistent with pre-test predictions and fully aligned with the U.S. Air Force's Adaptive Engine Transition Program (AETP) objectives. This successful test validates the ability of GE's XA100 engine to deliver transformational propulsion capability to fighter aircraft.
"We were exceptionally pleased with how the engine performed throughout the test," said David Tweedie, GE Edison Works' General Manager for Advanced Combat Engines. "Bringing a new centerline fighter engine to test for the first time is a challenging endeavor, and this success is a testament to the great team that worked so hard to get us here. We're looking forward to working with the Air Force and other stakeholders to identify the next steps toward bringing this revolutionary capability out of the test cell and into the hands of the warfighter."
The XA100-GE-100 engine combines three key innovations to deliver a generational change in combat propulsion performance:
An adaptive engine cycle that provides both a high-thrust mode for maximum power and a high-efficiency mode for optimum fuel savings and loiter time

A third-stream architecture that provides a step-change in thermal management capability, enabling future mission systems for increased combat effectiveness

Extensive use of advanced component technologies, including ceramic matrix composites (CMC), polymer matrix composites (PMC), and additive manufacturing
These revolutionary innovations increase thrust 10%, improve fuel efficiency by 25%, and provide significantly more aircraft heat dissipation capacity, all within the same physical envelope as current propulsion systems.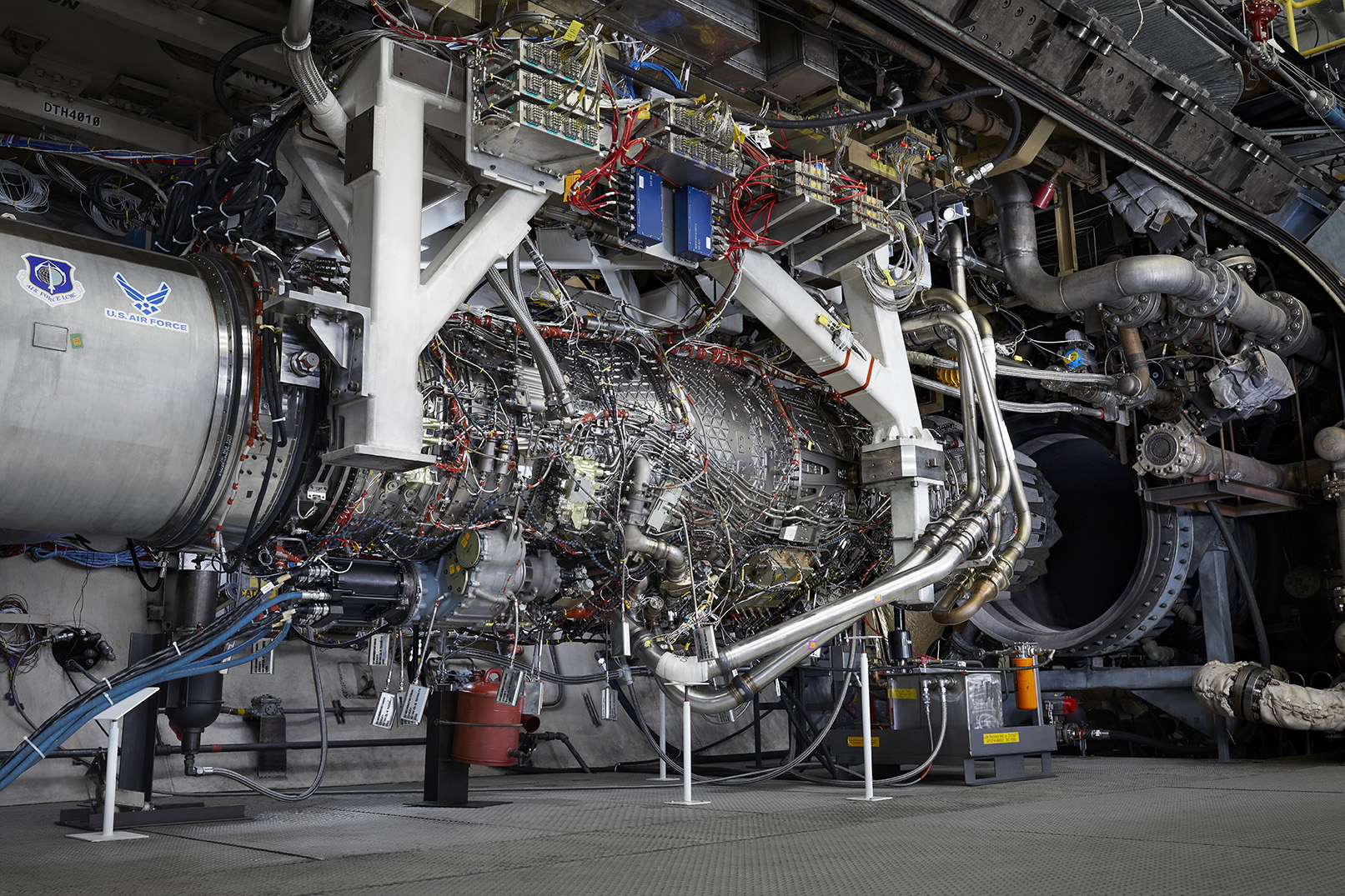 "This was the most heavily instrumented engine test in both GE and U.S. Air Force history. We were able to obtain an immense amount of high-quality test data proving out the engine's capabilities and demonstrating a good return on the Air Force's investment," Tweedie explained. "The Air Force has been an integral part of the team throughout the entire design and test process. That extensive involvement has been key in reaching this milestone. It has been an incredible partnership and collaboration."
Full-scale prototype engine testing in the AETP program is the capstone of a multi-year technology maturation and risk reduction effort to bring adaptive cycle engines to full maturity in close partnership with the U.S. Air Force. Efforts began in 2007 with the Adaptive Versatile Engine Technology (ADVENT) program, continued in 2012 with the Adaptive Engine Technology Development (AETD) program, and culminated in the launch of AETP in 2016. This development work provided GE a solid foundation of design analysis and empirical test activities to successfully achieve a full-scale prototype engine. GE is the only engine company to compete for, be awarded, and complete both the preceding ADVENT and AETD programs.
Assembly of GE's second prototype XA100 engine is well underway, with testing on that engine expected to begin later in 2021.  Once complete, that will conclude the major deliverables of the AETP program.
The XA100 is a product of GE Edison Works, a business unit dedicated to the research, development, and production of advanced military solutions. This business unit has full responsibility for strategy, innovation, and execution of advanced programs.
About GE
GE (NYSE:GE) rises to the challenge of building a world that works. For more than 125 years, GE has invented the future of industry, and today the company's dedicated team, leading technology, and global reach and capabilities help the world work more efficiently, reliably, and safely. GE's people are diverse and dedicated, operating with the highest level of integrity and focus to fulfill GE's mission and deliver for its customers.
# # #
For more information, contact:
William "Cole" Massie     [email protected]     (513) 288-4489