Asheville, North Carolina -- Just five years after breaking ground, GE Aviation is investing an additional $105M in its Asheville, NC, production facility to meet growing demand for the revolutionary ceramic matrix composite (CMC) components produced at the plant. As part of the investment, GE Aviation will create 131 new jobs at the Asheville facility, a significantly increasing its workforce of 425 employees. GE Aviation also is adding 15 new positions at its West Jefferson, NC, manufacturing plant, which currently employs more than 270.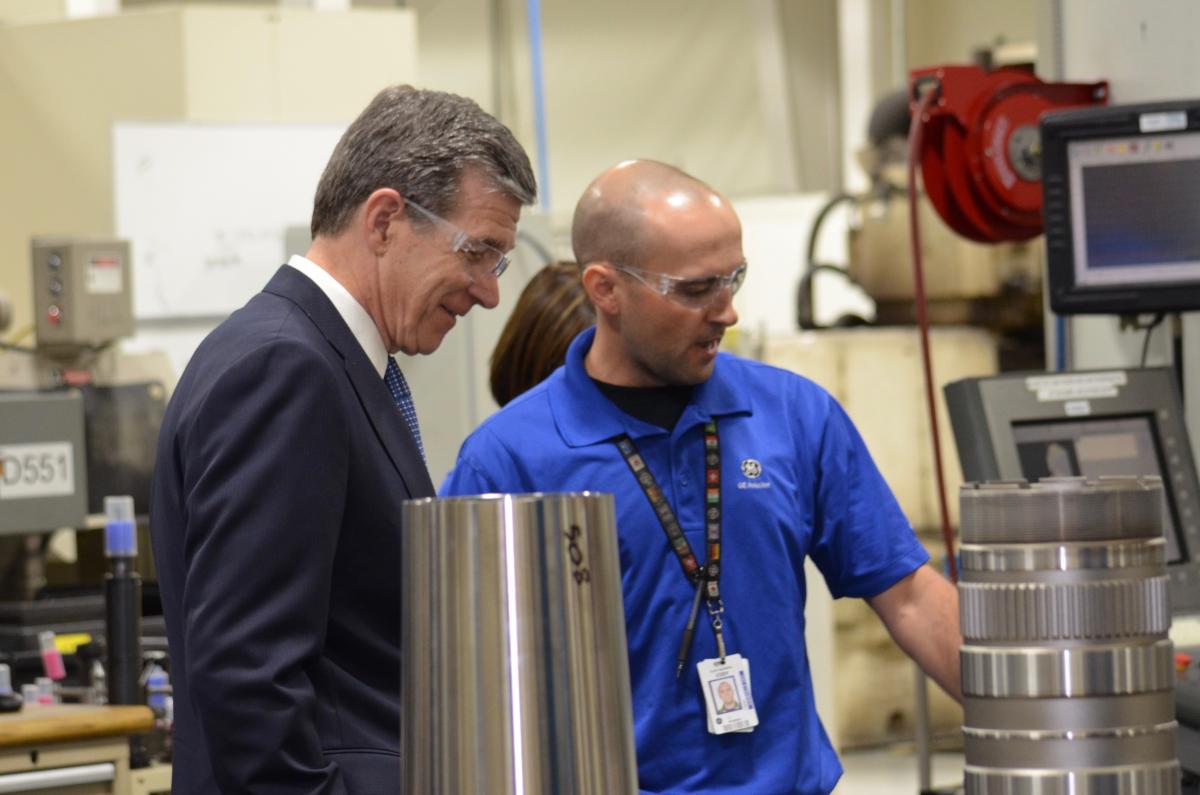 "We are very pleased to continue expanding our GE Aviation business in Asheville," said Michael Meguiar, Asheville Plant Leader. "We continue to build on a great workforce, culture and community that supports advanced manufacturing jobs in Western North Carolina. This merging of technology and a strong, creative workforce is the foundation of our success. Our site continues to grow as we win components for our next generation of engines such as the GE9X and the CFM LEAP. I'm very proud of the technology advances and the continued competitiveness that our teams have been able to demonstrate."
"North Carolina welcomes innovators who drive our economy forward," said Governor Roy Cooper. "GE Aviation and their North Carolina employees have a long history of accomplishment in our state and this expansion will put even more people to work building the next generation of innovative products for the aerospace industry."

GE Aviation's Asheville and West Jefferson facilities are part of the company's Global Supply Chain, which includes some 80 facilities in 19 countries employing more than 27,000 people. GE Aviation also operates a component manufacturing facility in Wilmington and an engine assembly plant in Durham. GE Aviation currently employs more than 1,700 people in North Carolina. The Asheville CMC plant, opened in 2014, was the company's first site to mass produce CMC components for jet engines.
The demand for CMCs is expected to grow tenfold over the next decade driven by rising jet engine production rates. Each new LEAP engine, produced by CFM International (50/50 joint company of GE and Safran of France) has 18 CMC turbine shrouds, which are stationary parts in the high-pressure turbine that direct air and ensure turbine blade efficiency. LEAP production is accelerating quickly and more than 14,270 engines currently on order. CMCs also are being used in the combustor and high-pressure turbine section of the new GE9X engine under development for the Boeing 777X twin-aisle aircraft. Almost 700 GE9X engines are on order.
The North Carolina Department of Commerce and the Economic Development Partnership of N.C. (EDPNC) were instrumental in supporting the expansions. Other key partners in the project include the North Carolina General Assembly, the North Carolina Community College System, Buncombe County, Ashe County, the City of Asheville, Ashe County Economic Development, and the Economic Development Coalition of Asheville and Buncombe County.
About GE Aviation
GE Aviation, an operating unit of GE (NYSE: GE), is a world-leading provider of jet and turboprop engines, components and integrated systems for commercial, military, business and general aviation aircraft. GE Aviation has a global service network to support these offerings. For more information, visit us at www.ge.com/aviation. Follow GE Aviation on Twitter at http://twitter.com/GEAviation and YouTube at http://www.youtube.com/user/GEAviation.